October is Fire Prevention month!
Here are some fire safety reminders for your fall to do list:
Have your chimney cleaned and inspected by a qualified individual

Have your heating equipment serviced and inspected by a qualified individual

When you change your clock on November 2 remember to test and change the batteries in your smoke and carbon monoxide alarms

I

nspect your home fire extinguishers per the manufacturer's instructions
Did you know that a door could save your life during a fire?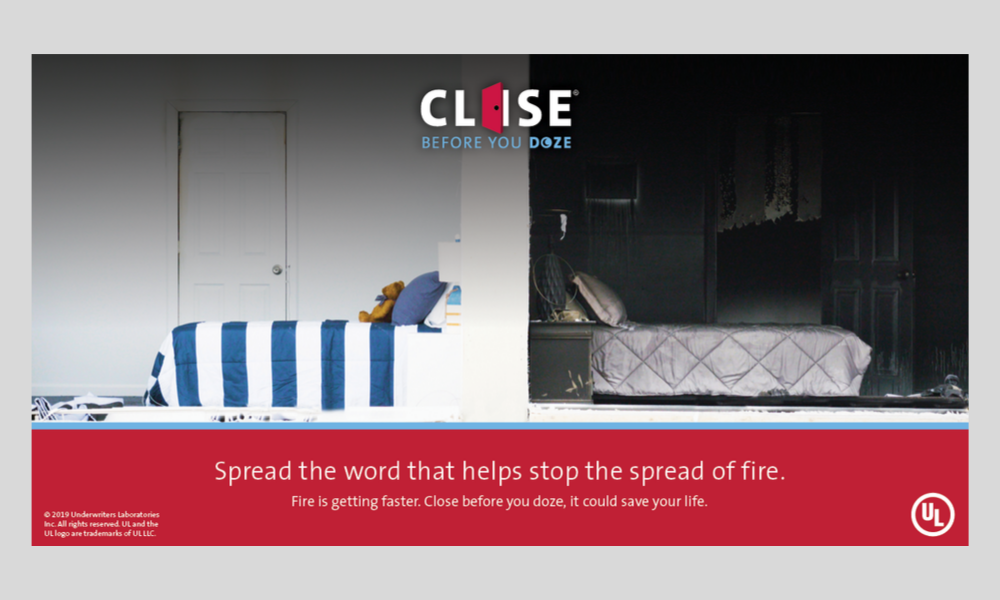 The picture above shows two rooms after a fire occurred in the hallway outside the room's door. The door to the room on the left was closed during the fire and you can see just a small amount of smoke has seeped into the room. The door to the room on the right was open during the fire and you can see the devastation caused by the fire's smoke, heat, and toxic gases. Closing your bedroom door before you go to sleep can increase your chances of surviving a fire. If you encounter a fire, close the door to the room where the fire is located to help contain it while you spread the alarm and evacuate from the building.
Watch this dramatic video from a fire in Fairfax, VA where a closed door saved a child's life.
For more information visit closeyourdoor.org
---

October is also National Cybersecurity Awareness Month
October is National Cybersecurity Awareness Month, focusing on our shared responsibility to keep the online community safe for everyone. This year's theme is "Own IT. Secure IT. Protect IT." and encourages personal accountability and awareness to ensure online privacy and security. The Internet touches nearly every aspect of our daily lives. When we all take steps to secure our connected devices and data, we all benefit.
---
Welcome to Cornell's Emergency Management web site.
This website provides the Cornell community with important information before, during, and after campus emergencies.  We encourage you to bookmark this site and explore it to better prepare before an emergency occurs.

Emergency Messages
CornellALERT is the university's emergency notification system and is used for situations involving an immediate threat to the health and safety of the community.  Active CornellALERT messages appear in the right sidebar of this website (at the top of the page on mobile and small screen devices).
You can receive alerts on your cellular phone if you have provided your contact information or installed the Rave Guardian app and activated it for the Cornell Ithaca Campus. Messages are also sent to the @cornell.edu e-mail addresses of current students, employees, and affiliates.
If you receive a CornellALERT message you should promptly follow the directions given in the message and monitor this emergency web site for additional information.
What to do in an Emergency
CALL 911 for any situation that requires IMMEDIATE police, fire, or medical response to preserve life or property. From cellular phones call Cornell Police at 607-255-1111 or use a Blue Light or indoor emergency phone.
The Emergency Action Guide provides information about what you should do in the case of various emergencies. The Emergency Action Guide appears in the left sidebar of this website and moves to the bottom of the page on mobile and small screen devices. Take a few minutes to read through the guides so you know what actions to take during an emergency.
Preparing for Emergencies
It is everyone's responsibility to be ready for emergencies before they occur. Use the following pages to help you prepare.
---
Got 2 minutes? Watch this video to learn how to do Hands Only CPR!